Online Public Access Catalog (OPAC)
Login and Logout of Public Access Catalog
If you are planning on performing multiple tasks that are "user-specific", such as placing holds or renewing your materials, you may wish to login to the OPAC first. This will save your information for your entire session. However, you can browse our collection without logging in. You will also be prompted for your information later if you decide to place a hold or attempt any user-specific task.
To login for the entire session: at the top-right of the online catalog, enter your User ID (your library card number with no spaces) and your PIN. Click the Login to the e-Library OPAC button.

These boxes and button will disappear when you are successfully logged in.
Don't forget to Logout when you are finished using the text link on the blue band, or simply close all windows.
Renew Materials / Manage Account
Using the Renew Materials / Manage Account link at the left, you can:
» Check the status of your account (current Checkouts, Fines, and Holds)
» Renew Materials
» Change your PIN
If you are renewing item(s), please notice on the following screen if the renewal was successful or failed. Items can not be renewed if they have already been renewed twice, or if another user has a hold on the item.
Search Catalog / Place Hold
Click the Search Catalog link at the above left. The Online Catalog will open in a new window.
If the search produced multiple results, click on the Details button to see the single item display of the desired item.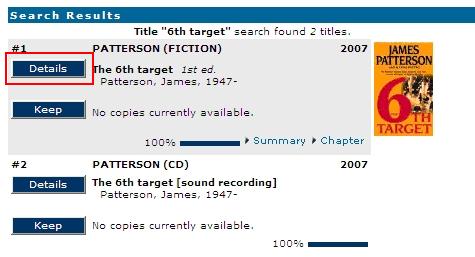 To place a hold on the item click the words Place Hold in the box on the left of the single items display screen: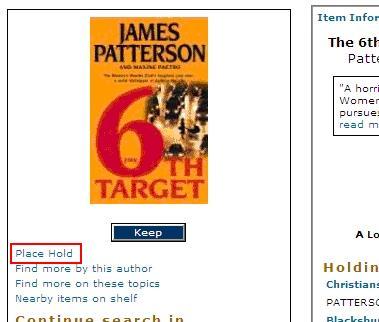 The hold confirmation screen will ask you for your desired pickup branch. If you have not logged into this session, you will be prompted for your User ID (your library card number - no spaces) and your PIN. By default, a hold request is good for one year. We will contact you when your item is available.
Click Place Hold to complete the transaction.