MFRL Foundation
Join the Montgomery-Floyd Regional Library Foundation (MFRLF) for the 5th Annual Bountiful Basket Auction at the Blacksburg Library.
Eclectic baskets, each with a unique theme and a centerpiece book, will help build the Endowment for the Montgomery-Floyd Regional Libraries.
Lots of baskets will be available for bidding by silent and live auction, including
Check our Facebook page for the most up to date list of baskets.
Come bid and tap your toes to live music while you enjoy wine and light hors d'oeuvres. Tickets for the event are $20.00 per person and are available at all Montgomery-Floyd Regional Library branches (cash/check) and online at our Eventbrite site (credit cards).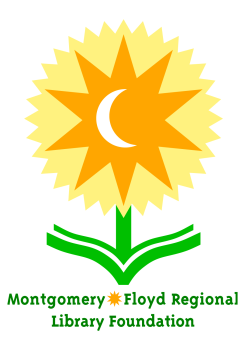 The Montgomery-Floyd Regional Library Foundation is a 501(c)(3) and is the fundraising arm of the Montgomery-Floyd Regional Library. The Foundation funding helps the Library create new programs, expand services, and improve our buildings.
At the same time, the Foundation gives YOU an avenue to support your Library by making a donation, or getting involved as a volunteer. It is a way for you to give back to the Library you love!
The Foundation accepts cash, deferred/planned gifts, and some in-kind gifts. We will work with you to help your charitable goals fill the Library's needs. Please contact us at 382-6969 x210 for additional information.
---
Foundation Board of Directors
Gail Billingsley:

President

Susie McCrea:

Vice-President

Elaine G. Powers:

Secretary

Joe/Linda Powers:

Treasurer

Alison Armstrong

(Library Board liaison)

Rick Lewis
Bob Miller
David Mullins
Irene Peterson
Melinda Smith
LEGAL:
Ryan D. Hamrick
STAFF:
Karim Khan:

Director

June Sayers:

Business Manager
Support the Library through the Foundation.
All donations are tax-deductible.
Our Heroes and Supporters
Thank you so much to our sponsors and basket donors for making the 4th Annual Basket Auction a success!