Holiday Closing


Montgomery-Floyd Regional Library will be closed on Sunday, May 27, and Monday, May 28 for Memorial Day.
The Library is closed on Sundays during the summer through Labor Day.

The Library is Hiring New Posting May 15
View our Employment page for more information.
Strategic Planning Request for Proposals New!
Qualified vendors are encouraged to review MFRL's RFP for Strategic Planning Services. Proposals are due May 30, 2018 by 3 p.m.
Library News eMails
Want your inbox to tell you what's going on at your library? Sign up for one (or more!) of our branch-specific Announcement Lists.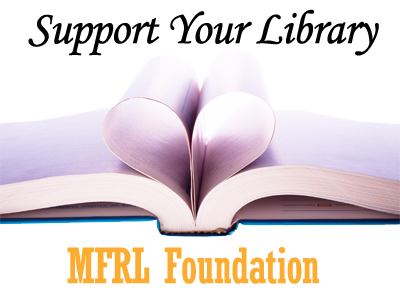 Love Your Library!
Visit our Foundation Page to see how you can support your library.
Bill Payments
Library Bills can be paid online. Visit our Bill Payment page for more information.
Reserve a PC online!
Go to our Reserve a Computer page to make your reservation.
Pre-Due and Holds Notifications
Visit our Notification page to set TXT / Email preferences.
New Arrivals!
Check out the New Books and New Movies recently added to the library collection.