On August 11, 2018 Montgomery-Floyd Regional Library held a celebration honoring Nannie B. Hairston. Here is the full hour-plus recording of the presentation.
Holiday Closing


The Montgomery-Floyd Regional Library will be closed Sunday, April 21.
Library News eMails
Want your inbox to tell you what's going on at your library? Sign up for one (or more!) of our branch-specific Announcement Lists.
Notification Settings
You can now choose between Email, Phone, and TXT notifications for: Due Date Reminders, Overdue Notices, and Available Hold Notices. Visit our Notification page to set your preferences.
Buy Our Stuff! New Items April 10

Ever wonder what happens to old MFRL equipment? It goes up for auction, along with other Montgomery County items. Check back regularly, you may find a bargain!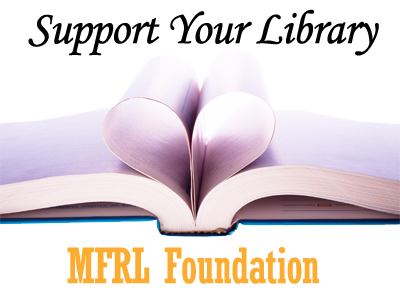 Love Your Library!
Visit our Foundation Page to see how you can support your library.
Bill Payments
Library Bills can be paid online. Visit our Bill Payment page for more information.
Reserve a PC online!
Go to our Reserve a Computer page to make your reservation.
New Arrivals!
Check out the New Books and New Movies recently added to the library collection.