Hoopla: Video, Music, Comics, and eBooks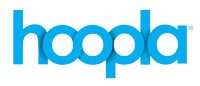 Hoopla provides on-demand access to over half a million non-fiction and fiction ebooks, comics, video, and music content. Hoopla's easy-to-use app and always available library makes this resource a great place to look for entertainment and information.
Using Hoopla
Hoopla items can be searched for and checked out from our Online Catalog. Check out our Searching and Digital Checkouts tutorials for more information.

You can check out up to five items through Hoopla each month. Hoopla titles are always available – no holds needed.
Get the App
If you have a smart phone or tablet, you can download the app and sign in. Once signed in your account will sync between devices.





About MFRL's Audiobook Collection
As of July 4, 2019, Montgomery-Floyd Regional Library no longer has access to Adult Audiobooks on Hoopla. Children's Audiobooks and other formats such as ebooks, video, and music will remain available. For more information about these changes, visit our Director's Page.
We encourage users who cannot find a downloadable-audiobook that they are looking for in our Overdrive and RBDigital collections to use the Suggestion for Purchase of Materials form.